International Family Yoga Camp
for Children and Adults
 21 – 27 June 2023
The House of Yoga Light, Czech Republic
Those who wish to spend an active yoga vacation with their family members (children, grandmother or grandfather, aunt…) have the opportunity to participate in yoga activities specially created for this occasion.
This year the emphasis will be on yoga in motion with music and rhythm.
The International yoga camp for children and parents (accommodation, food and activities) will be organized at The House of Yoga Light in the heart of Europe, in the Czech Republic from  21st to 27th June 2023.
Yoga camp with children and adults includes educational and entertaining activities:
• yoga classes for children
• joint yoga classes for children and adults
(parents, grandparents, aunts, uncles, babysitters, guardians)
• a program for adults (parents or guardians) intended to inform about the application of yoga in everyday family activities to support children's development
• yoga dance workshops
• participation of children in morning
meditative walks and in evening kirtan workshops
• preparation of children's performances for the yoga camp closure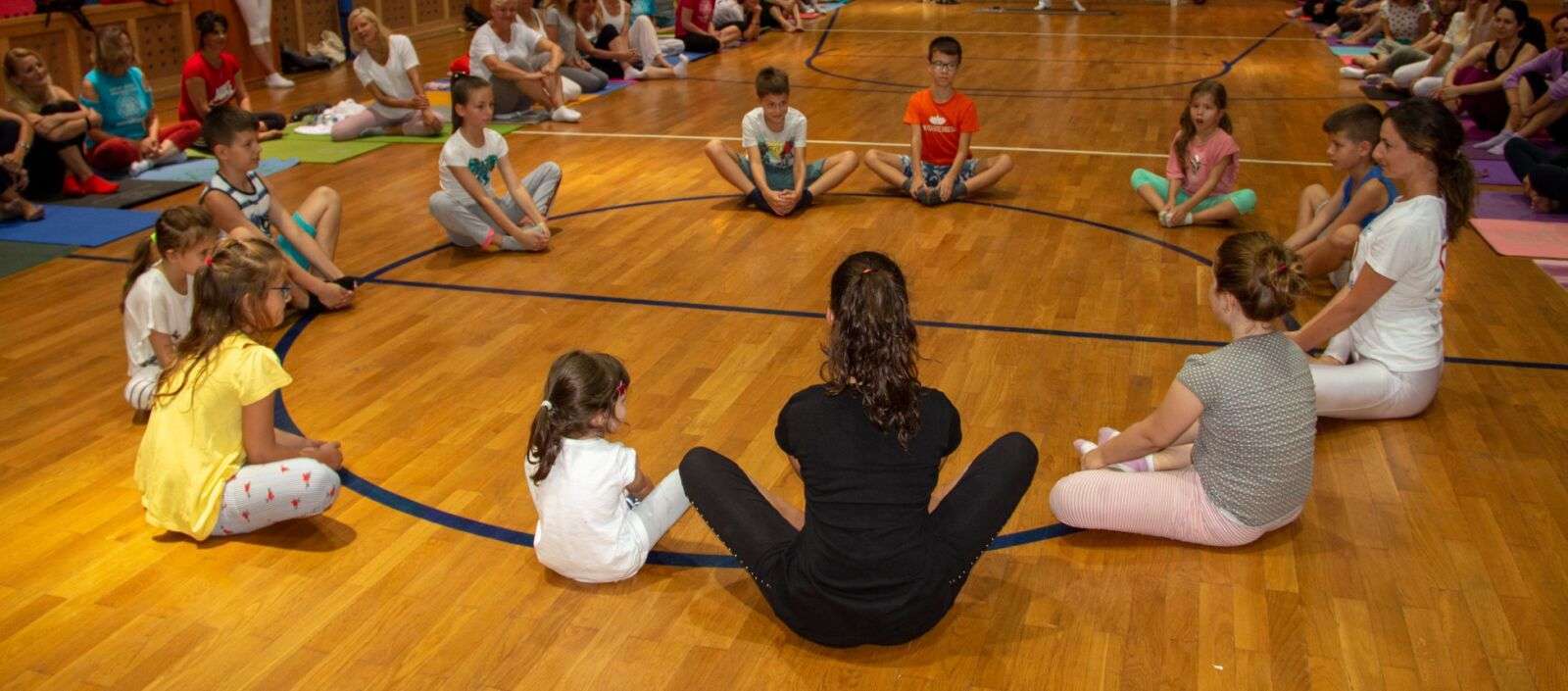 To strengthen the quality of relationships with family members and children
Yoga exercises with entertaining games encourage the development of children's sensibility for creative expression.
In addition to fun yoga content for children, the yoga camp provides an opportunity for parents to follow the process of change that occurs in their child, i.e. how the application of yoga pedagogy methods in individual work can contribute to:
correct posture, encouraging children's motor skills
easier acquiring of knowledge
acquiring the necessary social skills
development of values
strengthening self-esteem and personal capacities
strengthening concentration and attention
freedom of creative expression
Yoga classes for children are carefully designed in accordance with the age and developmental needs of children, with creative methods and pedagogical work. Classes support the overall development of the child.
With joy everything is achieved
With the professional guidance of experts from the Yoga Federation of Europe, focus of the yoga retreat content is on child development, applying yoga method through an individual approach.
Yoga camp for parents or guardians
Adult family members will have the opportunity to participate in the following activities:
Yoga spiritual dance
Yoga for advanced and beginners (yoga devotees)
Energy-regenerative yoga sessions, which will be personally led by the doyen of yoga, prof. Predrag Nikic PhD.
Siddhi & Siddha yoga class &  Yoga for hormonal balance class
Nyasa Yoga & Kirtan Yoga
Based on their affinity, the participants will decide in which program they will participate.
Reservations
Reception of participant applications for the international family yoga camp will be open until the capacities are filled.
We receive applications via email: yoga.yfe@gmail.com
For more information on the conditions of participation and how to apply contact us on Tel/Viber/WhatsApp: +420 773 691 858
This post is also available in: Czech